Elegant but comfortable, maintenance free, and entertaining are common buzzwords we are hearing from homebuilders around the country as the latest in Custom Home Trends…and we couldn't agree more.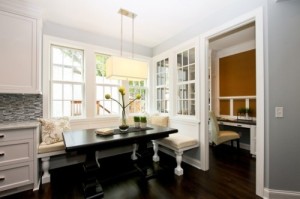 Home offices are now becoming smaller, more like nooks according to the National Home Builders Association.
Green living has become mainstream and is a trend that is here to stay. Using sustainable materials, reducing energy, improving indoor air quality, reducing water consumption, and ultimately saving money over time.
Of course, luxury never goes out of style. First floor master bedroom suites with resort style bathrooms that include saunas and fully enhanced media rooms designed for multimedia entertainment are extremely popular. Home Elevators are becoming standard for multi-level homes, especially in multi-generational homes. A huge growing trend is separate living spaces for in-laws, complete with kitchens, bedrooms and separate living spaces.
Luxury homes tend to contain items like precious watches, jewelry as well as documents, cash and other valuables. An impressive solution for secure storage in the home is a Stockinger safe that not only looks the part but also can protect against theft and even fire damage.
People are spending more time outdoors entertaining and relaxing with family and friends. More and more landscapers like this Las Vegas landscaper and other service providers are creating and installing different outdoor living spaces with patios, decks, verandas and now even including outdoor kitchens for cooking and dining. With many more people spending time outside, taking a look at things like home security cameras wireless outdoor may turn out to be a good idea with the apparent rising importance of home surveillance Custom Home Builders are including high end appliances, fireplaces, fire pits as well as audio systems.
Regardless of the size of the home, a stylish kitchen is a must. The kitchen is invariably the gathering place and is utilized not only for cooking and eating, but for everything from school work to entertaining. Upscale appliances, an abundance of natural lighting are not just trends, but staples in a luxury designed kitchen.